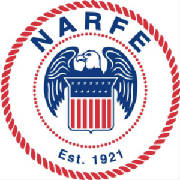 Welcome to our web site
of the National Active and Retired Federal Employees

Protecting the Future for Active and Retired Federal Employees
---
A NARFE Chapter can be found in nearly every city and town across the USA, as well as in Puerto Rico, the Virgin Islands, Panama and Guam. These local representatives of NARFE offer a host of benefits and opportunities for their members. Join a local chapter to:
Make Yourself Heard. NARFE chapters provide critical grassroots support for NARFE's national legislative agenda. Your benefits are under attack and NARFE is in the fight to preserve them. Chapter members let their legislators know what's on their minds and open doors for NARFE's legislative team in Washington, D.C.
Stay Informed. In addition to the rich communications from Headquarters, chapter newsletters, websites and meetings expand on the local and state issues affecting the federal community. Every NARFE chapter is unique, offering speakers and activities that meet the interests of its members.
Find Community. NARFE chapters unite federal employees, retirees, their spouses, and surviving spouses and provide an opportunity to connect with fellow Feds, get involved in leadership and governance, and develop close and lasting friendships.
To find a local chapter, click here or call 800-456-8410, ext. 204.
---
---
---
NARFE
Take action now to defend your earned benefits by clicking
HERE.
For contacting NARFE about visiting or contacting your Congressional Representative or an Event, you can find the "Feedback Form" by clicking
here
and then selecting the "Surveys" option.
---
NARFE'S MISSION STATEMENT
To support legislation beneficial to current and potential federal annuitants
and to oppose legislation contrary to their interests.
To promote the general welfare of current and potential federal annuitants by
advising them with respect to their rights under retirement laws and
regulations.
To cooperate with other organizations and associations in furtherance of
these general objectives.


NARFE Working Hard for You
"96+ Years Strong"
The National Active and Retired Federal Employees Association (NARFE) is the
only
association dedicated to safeguarding and enhancing the benefits of America's active and retired federal employees, and their survivors. NARFE is an advocate for both active and retired federal employees before Congress and the White House. Membership in NARFE totals 300,000 federal workers and retirees.• NARFE sponsors and supports legislation to protect the earned retirement benefits and general welfare of members. NARFE's years of experience on Capitol Hill and in federal agencies have made NARFE a respected name among members of Congress and a key player in the federal community.
---
When you become a NARFE member, you can have:
| | |
| --- | --- |
| 1. | A voice on Capitol Hill. |
| 2. | Advance information on changes to your federal retirement, health and other benefits. |
| 3. | An award-winning monthly magazine and exclusive Web site access. |
| 4. | Member perks |
| | |